Mr. Gopal Ramachandran, student of Electrical Engineering performing mag...
< Back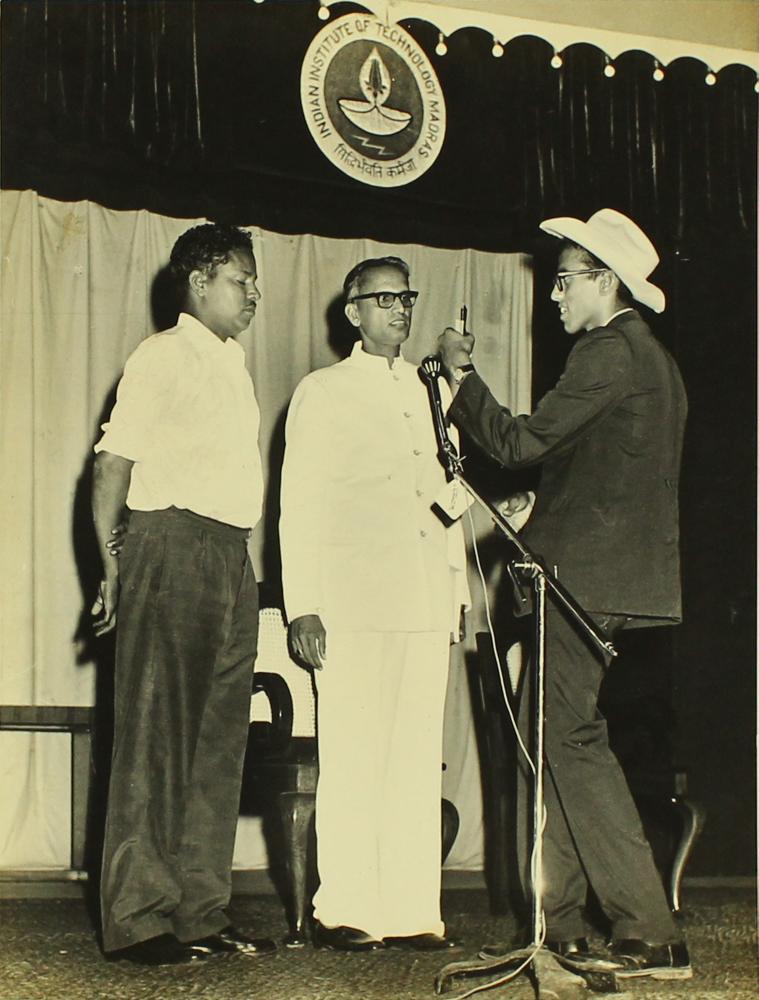 Administrators , Faculty , Institute Events
This photograph was taken during the variety programme of the Seventh Institute Day. The magic show was a part of the variety programme staged on the occasion. The other programmes included songs by various groups including the Beat-X, (a band consisting of B. Tech. students), a couple of plays including a Tamil play, and a mushaira.
Facing Mr. Ramachandran, Mr. C. V. Sethunathan, Registrar (middle), and Prof. V. Anantharaman from the Humanities Department (left). Gopal Ramachandran appears to have called to the stage senior administrators and faculty members in the audience -- Prof. Koch, Prof. Anantharaman, the Registrar, the HOD of Mechanical Engineering. Mr. Gopal Ramachandran graduated with a B. Tech. degree in 1967. He was a part of the five year Electrical Engineering course.
Collection:
Central Photographic Section Collection
Album Name:
7th Institute Day
Photograph ID:
001/0017/IMG_0616_1
Place:
Open Air Theatre (OAT)
Photographer:
C. Gourishankar (1936-2002). A geologist by qualification, Gourishankar started his career as a photographer after working for many years with the Geological Survey of India. In everything that he did, Gourishankar strove to achieve flawlessness and impeccable quality. Thus his photography too was characterised by this drive for perfection. Every photograph that Gourishankar took was meticulously planned and shot and printed with diligence and patience. Gourishankar carried out most of the official photography at IIT Madras in the 1960s.
Event:
Seventh Institute Day