< Back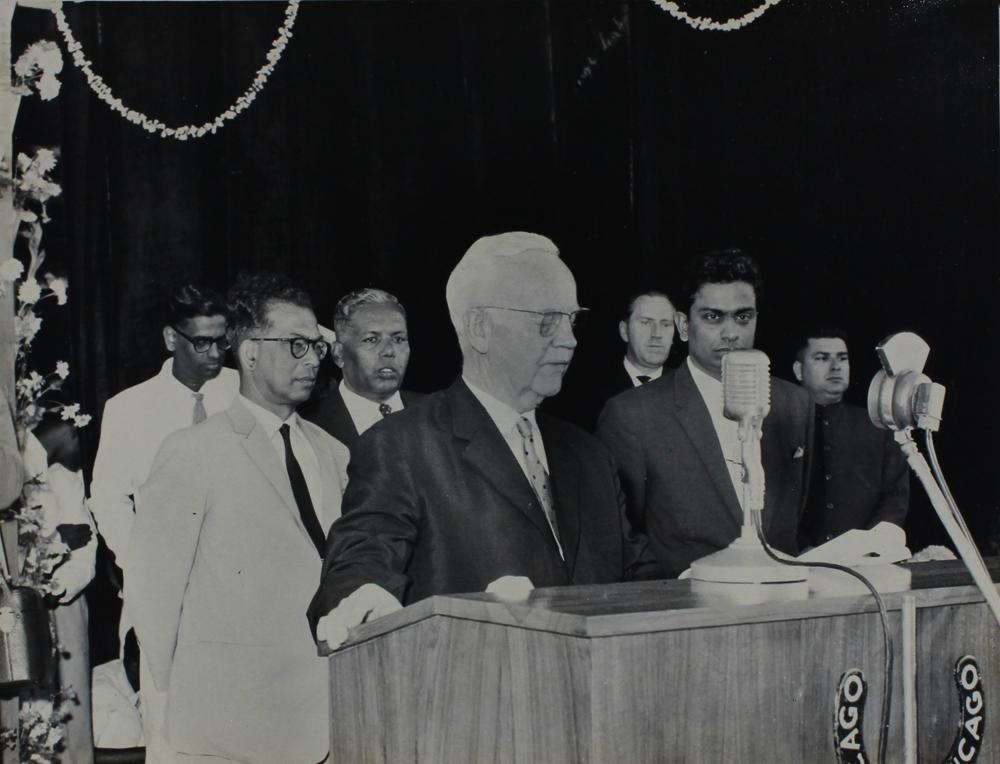 Inaugurations , Visiting VIPs
This photograph was taken during the inauguration of the Open Air Theatre (OAT) which coincided with the foundation stone laying ceremony of IIT Madras.
From left, Mr. Rajagopalan (Deputy Registrar, wearing white suit in background), Prof. B. Sengupto (Director, wearing white suit and black tie), Mr. Y. S. Ramaswami (Superintending Engineer), Dr. h. c. Heinrich Luebke (President of the Federal Republic of Germany, addressing audience), and Mr. R. Natarajan (Registrar) at the event.

In his address, Dr. Heinrich Luebke stressed the success that was born out of the co-operation between the two countries and their governments. He quoted a line by Mahatma Gandhi 'Knowledge will be the common property of the people', and went on to say that "The stone which I now have the honour to lay should be a constant reminder of this task to us and to all who teach and study in this Institute."

An identical photograph can be found in the Gourishankar Collection in Album 0259 under the ID: 001/0259/IMG_0344
Collection:
Central Photographic Section Collection
Album Name:
Visit of h. c. Heinrich Luebke, President of the Federal Republic of Germany, 1962
Photograph ID:
001/0003/IMG_0149_1
Place:
Open Air Theatre (OAT)
Photographer:
C. Gourishankar (1936-2002). A geologist by qualification, Gourishankar started his career as a photographer after working for many years with the Geological Survey of India. In everything that he did, Gourishankar strove to achieve flawlessness and impeccable quality. Thus his photography too was characterised by this drive for perfection. Every photograph that Gourishankar took was meticulously planned and shot and printed with diligence and patience. Gourishankar carried out most of the official photography at IIT Madras in the 1960s.
Event:
Foundation Stone Laying Ceremony