< Back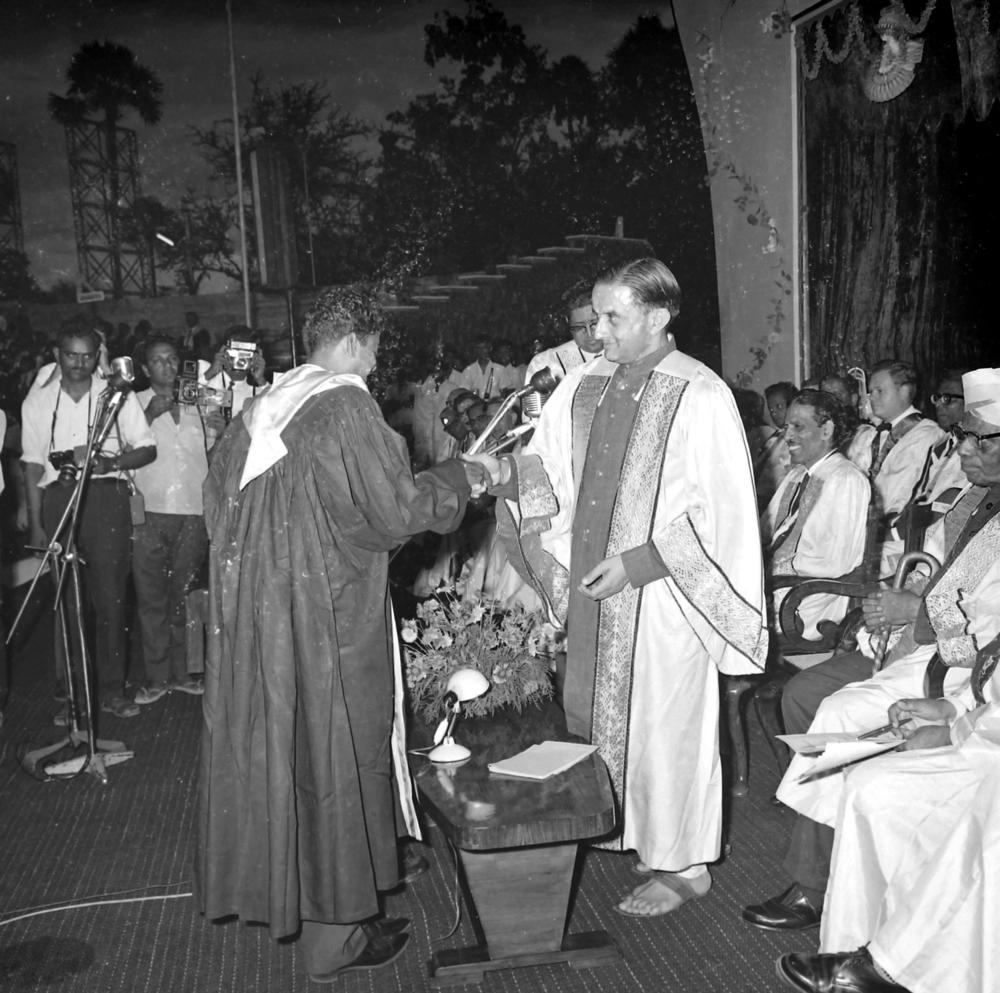 Institute Events , Convocations , Students
A total of 388 degrees were conferred in the year 1968. This included 292 B. Tech. degrees, 18 in M. Sc., 52 in M. Tech., 19 in DIIT and 7 in Ph. D. Dr. Sarabhai (Head, Atomic Energy Commission) was the chief guest for the fifth convocation.
As seen in the photograph, Dr. Vikram Sarabhai was known for wearing Kolhapuri chappals. In an article in Times of India, Arun Ram writes that Vikram Sarabhai was a "handsome man in white kurta-pyjama and Kolhapuri chappals". ('Vikram Sarabhai: Man who left aristocracy for astrophysics').

K. S. Jayaraman makes a similar observation in an article on Millenium Post: "Sarabhai always wore white khadi kurta pajamas paired with Kolhapuri chappals". ('"ISRO a personal history" | ISRO's climb from Kerala fishing village to Mars'). Kolhapuri chappals or simply Kolhapuris are made in several districts of Maharashtra and Karnataka. The chappals carry a long history, as Khursheed Dinshaw observes in an article published by Heritage India. Dinshaw writes: "Worn by everyone, from the Maharaja of Kolhapur to rural folk, these chappals have a story that dates back to four hundred years. Comfortable, hardy and aesthetically designed, they express the very essence of a traditional craft." ('The art of Sole Dressing- Kolhapuri Chappals'). Kolhapuris are made from buffalo hide and vegetable dye. It is reported that the making of a pair of Kolhapuris could take up to six weeks. The footwear gathered popularity in the USA during the 1960s and the 1970s.
Collection:
Gourishankar Collection
Album Name:
Fifth Convocation, 1968
Photograph ID:
001/0306/IMG_0378
Photographer:
C. Gourishankar (1936-2002). A geologist by qualification, Gourishankar started his career as a photographer after working for many years with the Geological Survey of India. In everything that he did, Gourishankar strove to achieve flawlessness and impeccable quality. Thus his photography too was characterised by this drive for perfection. Every photograph that Gourishankar took was meticulously planned and shot and printed with diligence and patience. Gourishankar carried out most of the official photography at IIT Madras in the 1960s.
Place:
Open Air Theatre (OAT)