Mr. J. R. D. Tata and some of the faculty members in conversation, 1969
< Back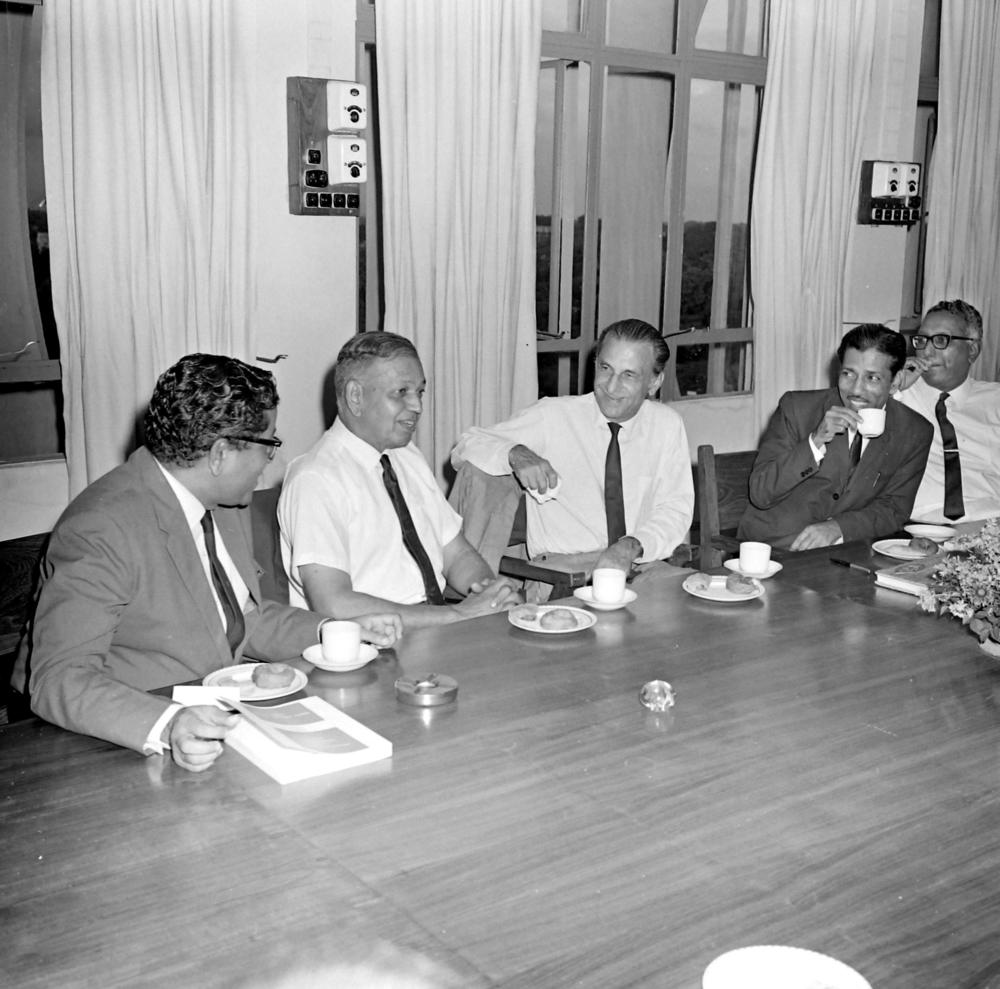 Visiting VIPs , Administrators , Faculty
Mr. Tata visited IIT Madras in December, 1969. He visited some of the laboratories and facilities at the Institute.
On the same day that Mr. Tata visited IIT, he met Chief Minister M. Karunanidhi at the latter's residence. The previous day, he received the Business Leadership Award from the Madras Management Association (MMA) on 15 December 1969, and delivered a lecture at the event after receiving the award.
The photograph was taken in the Conference Room on the fifth floor of the Administration Block. The Administration Block had been completed and occupied in 1968.
From left, Prof. S. Sampath (Deputy Director), Mr. H. V. R. Iengar (Chairman, Board of Governors), Mr. J. R. D. Tata (Chairman, Tata Sons Ltd.), Prof. A. Ramachandran (Director) and Prof. M. V. C. Sastri (Chemistry Department).
Collection:
Gourishankar Collection
Album Name:
J. R. D. Tata Visit
Photograph ID:
001/0211/IMG_0232
Photographer:
C. Gourishankar (1936-2002). A geologist by qualification, Gourishankar started his career as a photographer after working for many years with the Geological Survey of India. In everything that he did, Gourishankar strove to achieve flawlessness and impeccable quality. Thus his photography too was characterised by this drive for perfection. Every photograph that Gourishankar took was meticulously planned and shot and printed with diligence and patience. Gourishankar carried out most of the official photography at IIT Madras in the 1960s.
Event:
Visit of J. R. D. Tata
Place:
Conference Room, Administration Block