Mr. R. Natarajan leads the academic procession into the convocation hall...
< Back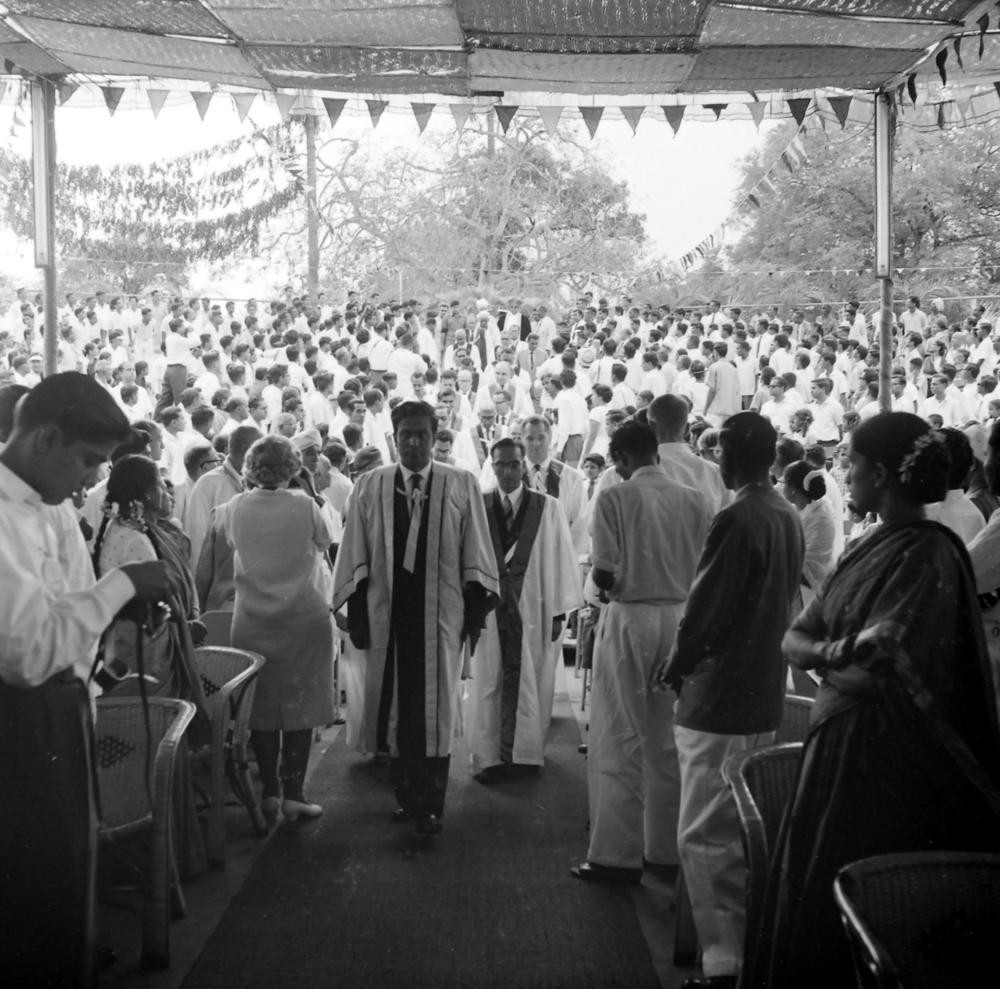 Institute Events , Convocations
The convocation procession is led into the Open Air Theatre by Mr. R. Natarajan (Registrar), the first Registrar of IIT Madras. He was one of the key figures who played a significant role in the inception of the Institute during the initial stages. He served as the Registrar from 1959 to 1965. Natarajan played a pivotal role in the functioning of IIT Madras. His unflinching dedication towards the various events and activities on campus is to be noted. He was also known for his love for cricket, as his articles in the publications so blatantly depict, his gift for writing complemented his love for willow and leather. Some of his articles-- My Team to Mars, The Panther from Baroda, The Royal Tiger from Pataudi, The Marvel from Mangalore and The Mantle of Mankad-- are literary masterpieces, rich in alliteration and dauntless description, lined with a gripping narrative. Natarajan's humble and genial countenance answers the question as to how the man was able to contribute immensely to the foundation of the Institute, and be an effortless bridge between the Administrative Heads and the student body. At the end of his tenure as Registrar, he would mention in his farewell speech: "My six years stay at this Institute, I must say, has been a garland of golden memories." It was on the 6th of April 1965 that Natarajan's "mercurial and memorable innings" at IIT Madras came to an end, with him moving out of the institute, having laid a solid foundation along with his colleagues, one that has withstood the test of time.
Collection:
Gourishankar Collection
Album Name:
1st convocation Dr. Radhakrishnan Chief Guest 11 July 1964
Photograph ID:
001/0213/IMG_0274
Photographer:
C. Gourishankar (1926-2002). A geologist by qualification, Gourishankar started his career as a photographer after working for many years with the Geological Survey of India. In everything that he did, Gourishankar strove to achieve flawlessness and impeccable quality. Thus his photography too was characterised by this drive for perfection. Every photograph that Gourishankar took was meticulously planned and shot and printed with diligence and patience. Gourishankar carried out most of the official photography at IIT Madras in the 1960s.