< Back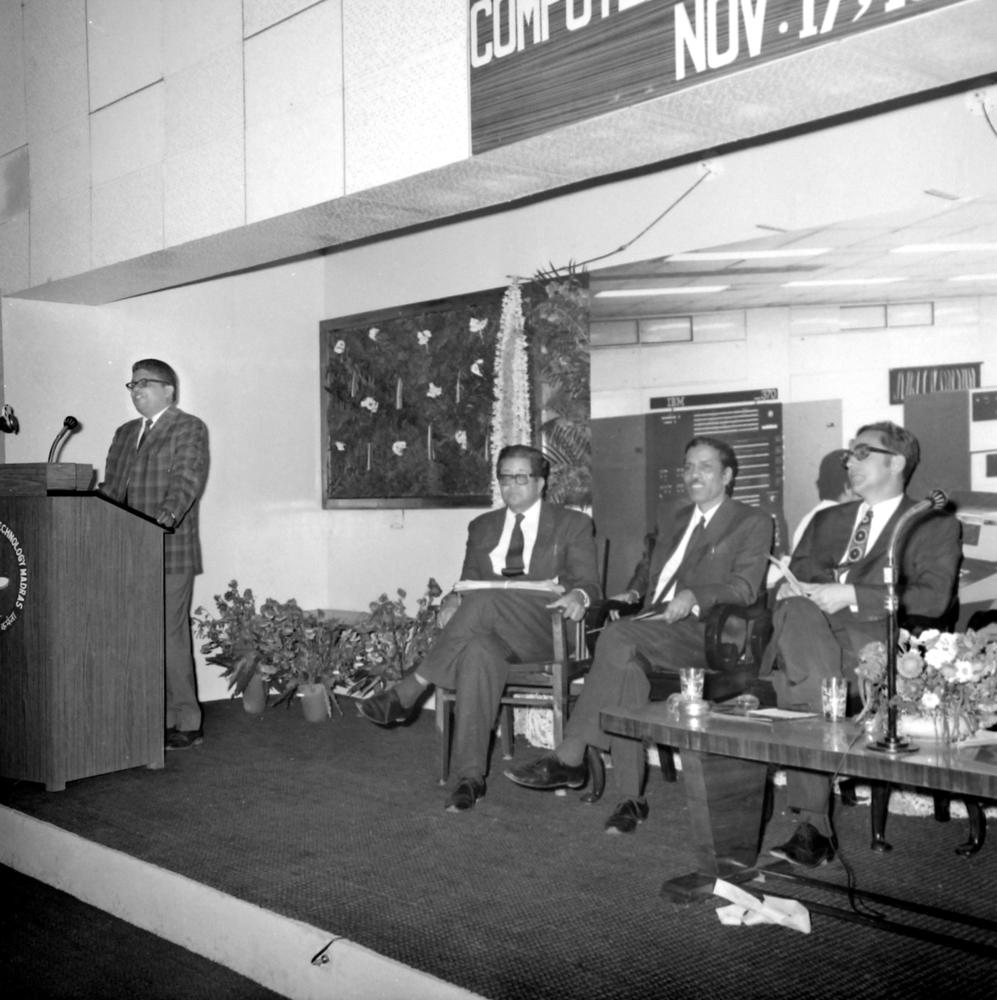 Institute Events , Inaugurations , Administrators
This photograph was taken during the Inauguration of the Computer Centre, which saw the start of a new era in computing at IIT Madras. The IBM 370 was installed at the Institute and it was ready to be put into use.
In a report published in the book 'Computer Education in India: Past, Present and Future', Prof. Mahabala, who was the first Professor-in-charge of the Computer Centre of IIT Madras, mentions, "With this, IIT is now among the few institutions in the world to have been equipped with a versatile computer system." He goes on to share some of the key features of the IBM 370, which included the large disk storage with a capacity of 400 million bytes, which translates to 400 megabytes, a significant number in those days.
IBM made a large mural specifically for the occasion, using a photograph of the IBM 370 taken at the Computer Centre. It was made upon Prof. Mahabala's request. The mural was placed behind the stage of the Central Lecture Theatre (CLT). In this image, it is visible behind the distinguished guests who are seated at the stage. It was around 25 feet long and approximately 6-8 feet high, providing a clear image of the machine. After the inauguration, the mural was kept in one of the classrooms in the Building Sciences Block (BSB) where M.Tech. classes were held.
In the image, from left, Prof. H. N. Mahabala (Head of Computer Centre, at podium), Prof. S. Sampath (Deputy Director), Prof. A. Ramachandran (Secretary, Department of Science and Technology, Government of India) and Dr. Erhard Eppler (Minister for Economic Co-operation, Federal Republic of Germany).
Collection:
Gourishankar Collection
Album Name:
1. Special Convocation for Dr. Erhard Eppler 2. Computer Centre Inauguration
Photograph ID:
001/0266/IMG_0100
Photographer:
C. Gourishankar (1936-2002). A geologist by qualification, Gourishankar started his career as a photographer after working for many years with the Geological Survey of India. In everything that he did, Gourishankar strove to achieve flawlessness and impeccable quality. Thus his photography too was characterised by this drive for perfection. Every photograph that Gourishankar took was meticulously planned and shot and printed with diligence and patience. Gourishankar carried out most of the official photography at IIT Madras in the 1960s.
Event:
Inauguration of Computer Centre
Place:
Central Lecture Theatre (CLT)