< Back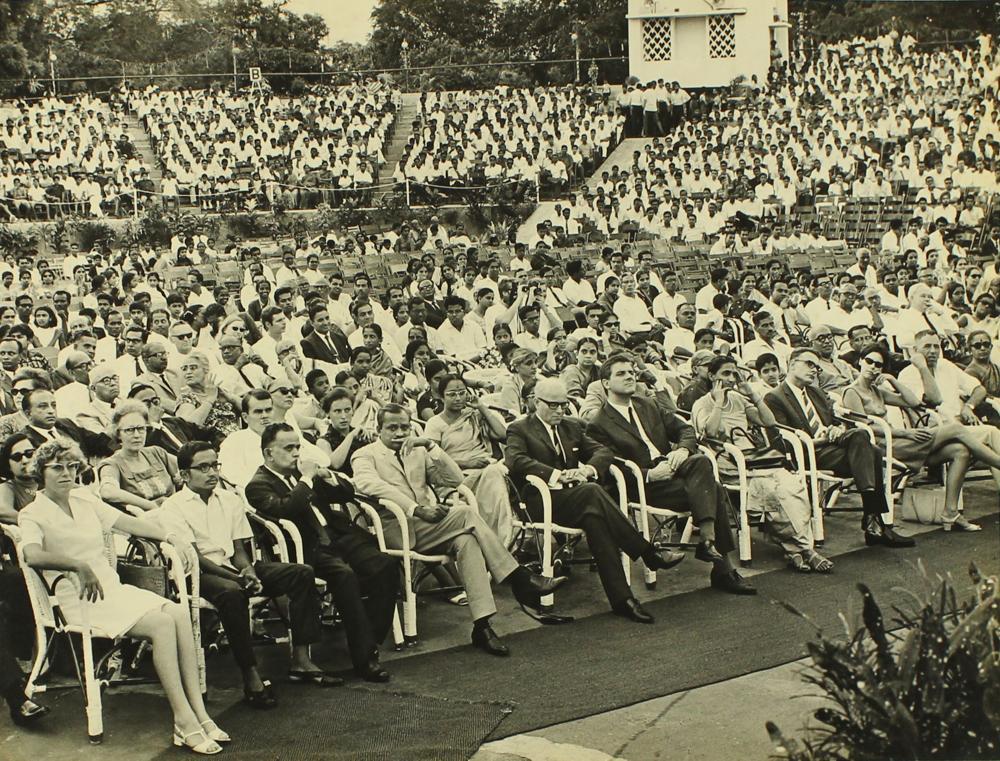 Campus Buildings , Institute Events , Students
The sixth convocation of IIT Madras was held on 2nd August, 1969. The convocation took place at the Institute's Open Air Theatre. A total of 470 degrees and diplomas (321 B. Tech., 76 M. Tech., 30 M. Sc., 19 Ph. D. and 24 D. I. I. T.) were granted at the event. Mr. H. V. R. Iengar (Padma Vibhushan), the Chairman of the Board of Governors presided over the ceremony. The chief guest and speaker at this event was Dr. S. Bhagavantam, Scientific Advisor to the Ministry of Defence, Government of India. He was a well-known visionary scientist, administrator and an architect of defence research.

An identical photograph can be found in the Central Photographic Section Collection and the Gourishankar Collection in Album 0055 and 0269 under the ID: 001/0023/IMG_0721_1 and 001/0269/IMG_0192

Collection:
Central Photographic Section Collection
Album Name:
6th Convocation
Photograph ID:
001/0055/IMG_1673_1
Photographer:
C. Gourishankar (1926-2002). A geologist by qualification, Gourishankar started his career as a photographer after working for many years with the Geological Survey of India. In everything that he did, Gourishankar strove to achieve flawlessness and impeccable quality. Thus his photography too was characterised by this drive for perfection. Every photograph that Gourishankar took was meticulously planned and shot and printed with diligence and patience. Gourishankar carried out most of the official photography at IIT Madras in the 1960s.