< Back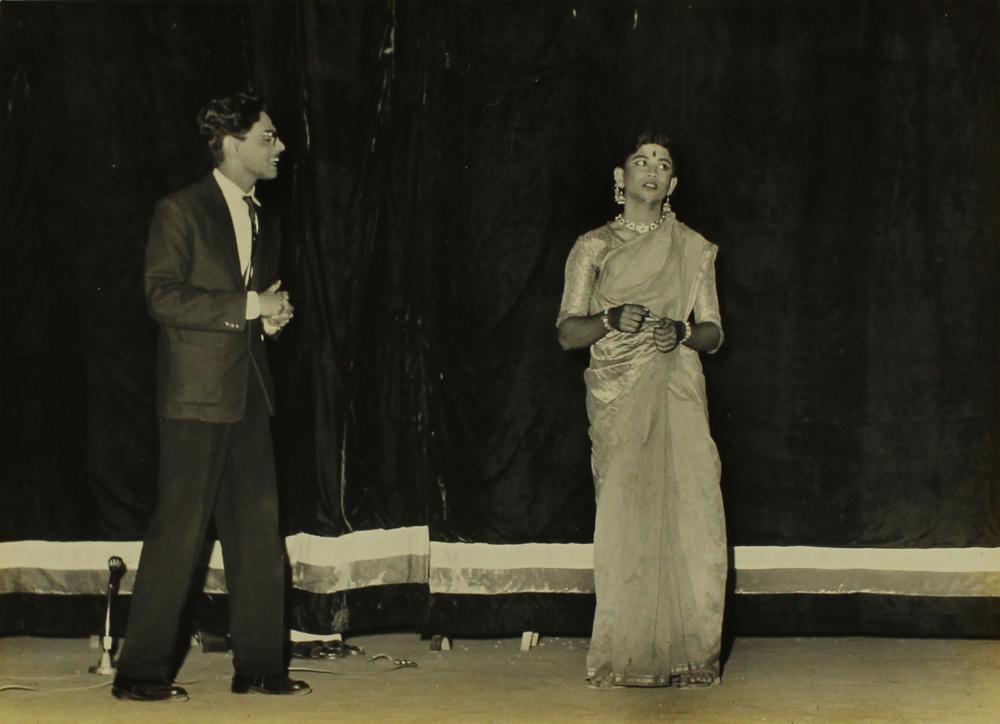 Cultural Events , Sports , Student Activities
The Third Inter-IIT Sports Meet was the first one to be held at IIT Madras. The cultural programme consisted of plays in different languages including English, Hindi and Tamil, and also included group songs. Students from various IITs took part in the cultural programmes.
The student in the black suit is Mr. K. V. Rangaswami. He received his B. Tech. in Civil Engineering from IIT Madras in 1965. He went on to complete his higher studies from the Indian Institute of Management, Ahmedabad. After graduation, he joined Larsen and Toubro Limited, joining the Engineering Construction Corporation (ECC), owned by Larsen and Toubro Ltd. as a Junior Engineer in 1965. He went on to hold high positions in the company, including General Manager, Vice President and so on. He is responsible for completing the Jawaharlal Nehru Stadium, the prime venue for football and athletics in Chennai. He was also responsible for the success behind the International Technology Park Limited in Bangalore and the HITEC city at Hyderabad. He was conferred the Distinguished Alumnus Award by IIT Madras.
An identical photograph can be found in the Gourishankar Collection in Album 0317 under the ID: 001/0317/IMG_0537
Collection:
Central Photographic Section Collection
Album Name:
Third Inter IIT Sports Meet
Photograph ID:
001/0001/IMG_0098_1
Date:
28-31 December 1964
Event:
Third Inter IIT Sports Meet
Photographer:
C. Gourishankar (1936-2002). A geologist by qualification, Gourishankar started his career as a photographer after working for many years with the Geological Survey of India. In everything that he did, Gourishankar strove to achieve flawlessness and impeccable quality. Thus his photography too was characterised by this drive for perfection. Every photograph that Gourishankar took was meticulously planned and shot and printed with diligence and patience. Gourishankar carried out most of the official photography at IIT Madras in the 1960s.
Place:
Open Air Theatre (OAT)