< Back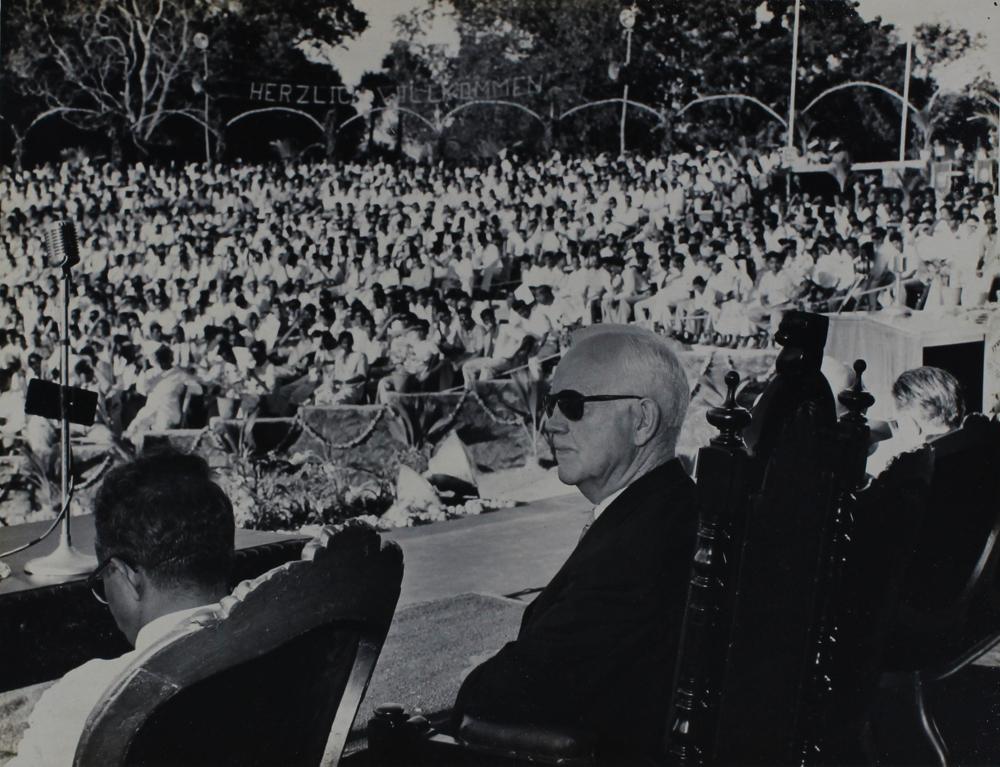 Inaugurations , Visiting VIPs
This event marked not only the visit of the President of the Federal Republic of Germany, but also the inauguration of the Open Air Theatre (OAT) of IIT Madras. The banner in the background reads "Herzlich Willkommen", which translates to "Warm Welcome". K. M. Kripanarayan writes in the 15 December 1962 edition of Campastimes, in his article titled 'President Luebke Lays the Foundation Stone of I.I.T. Madras', "The student gallery was packed to the full in spite of the Davis Cup Match". Das Bundesarchiv from Germany has documented a video of the President's visit to India. Titled Der Staatsbesuch in Indien, the technicolour video shows roughly two minutes' worth of content of President Luebke in Chennai and IIT Madras. It appears that the students were dressed in white for the event.
On the stage, Prof. B. Sengupto (Director) and Dr. h. c. Heinrich Luebke (President of the Federal Republic of Germany).
Collection:
Central Photographic Section Collection
Album Name:
Visit of h. c. Heinrich Luebke, President of the Federal Republic of Germany, 1962
Photograph ID:
001/0003/IMG_0150_1
Place:
Open Air Theatre (OAT)
Photographer:
C. Gourishankar (1936-2002). A geologist by qualification, Gourishankar started his career as a photographer after working for many years with the Geological Survey of India. In everything that he did, Gourishankar strove to achieve flawlessness and impeccable quality. Thus his photography too was characterised by this drive for perfection. Every photograph that Gourishankar took was meticulously planned and shot and printed with diligence and patience. Gourishankar carried out most of the official photography at IIT Madras in the 1960s.
Event:
Foundation Stone Laying Ceremony