Pandit Ravishankar performing on stage with other musicians during Mardi...
< Back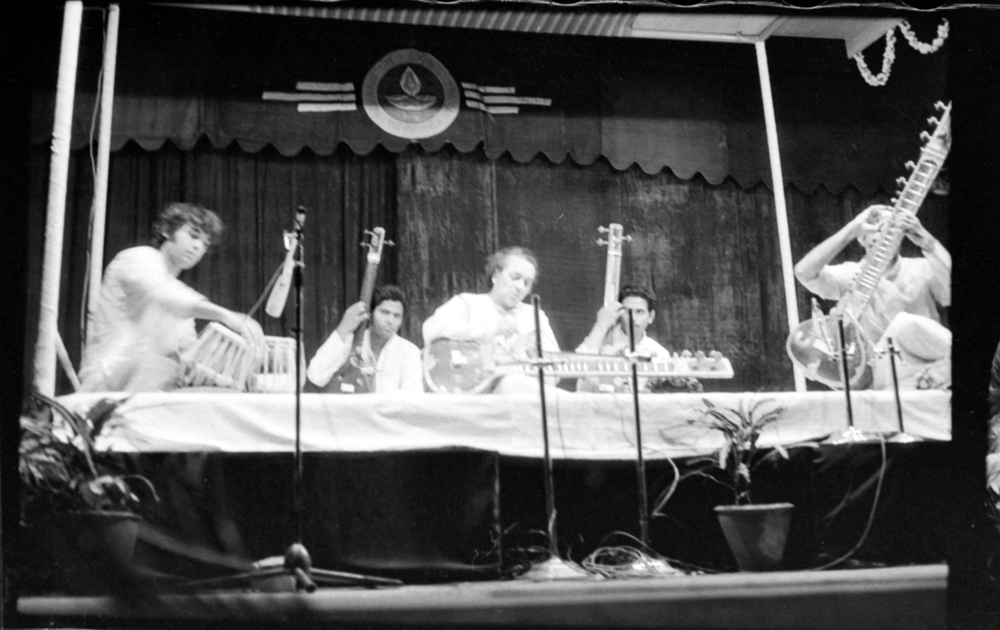 Cultural Events , Student Activities
The professional music performance by Pandit Ravishankar, Shri Ananda Shankar and Zakir Hussain, accompanied by two other musicians in the background was one of the main attractions of the cultural festival in 1983. Shri Zakir Hussain also performed in professional shows in subsequent years, accompanying other renowned musicians (such as L. Shankar, Vikku Vinyakram and Pandit Shivkumar Sharma) during Mardi Gras '88 and '92.

Ustad Zakir Hussain (born in 1951) has been considered as one of the most famous tabla players in India during the post-independence era. He has performed with several talented musicians, over the years, not just in India but across the world. He was the son of Ustad Allah Rakha, a renowned tabla player. He was considered to be a child prodigy and began touring to perform at concerts by the time he was twelve years old. He completed his PhD from University of Washington, where he obtained a doctorate in music.
Collection:
N S Vinodh Collection
Album Name:
Mardi Gras -1983
Photograph ID:
001/0415/0003
Date:
26 to 30 January 1983
Photographer:
N S Vinodh. After completing an early education in Bangalore, N. S. Vinodh obtained his B. Tech. in Civil Engineering from IIT Madras in 1986. Being the secretary of the Photography Club at IIT Madras during his third year, he was an avid photography enthusiast. He then went on to complete his MBA from IIM, Lucknow, and later spent his career holding senior positions in the field of corporate real estate with leading multinational financial services companies. He continued to pursue his hobby of photography, integrating it with his love of travel and wildlife.