< Back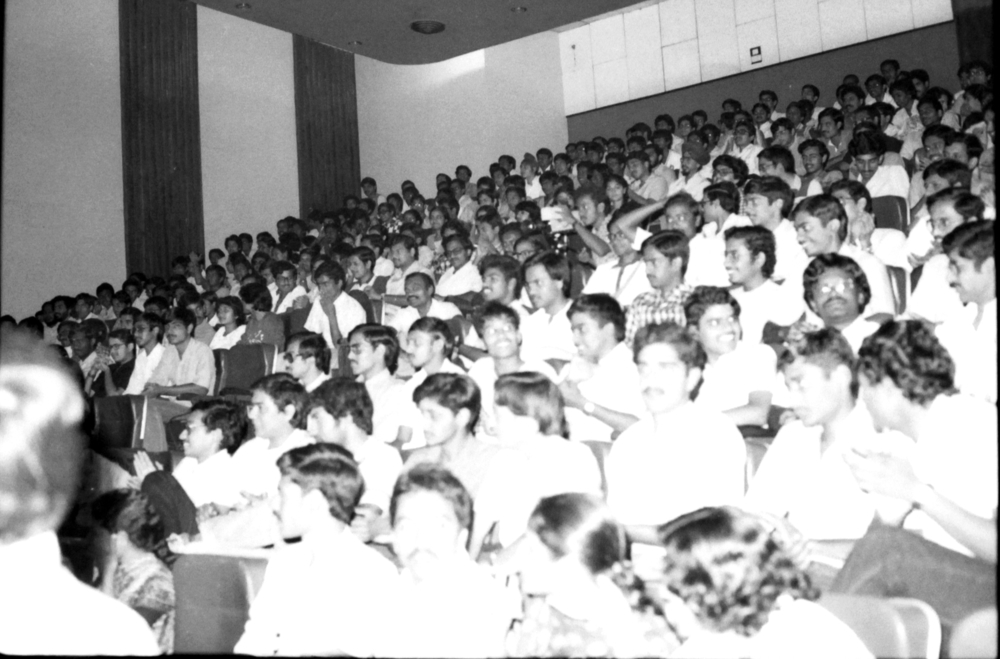 Cultural Events , Student Activities
The photograph was taken during an event at the Central Lecture Theatre, during Mardi Gras '83. The events during Mardi Gras '83, took place at several locations in the IIT Madras campus. These venues included Open Air Theatre, Humanities and Sciences Block, Shanti Kunj and several locations in between. Several halls such as the Central Lecture Theatre, Physics Lecture Theatre and Chemistry Lecture Theatre were also utilised. The music events and performances, especially the professional shows, took place at the Open Air Theatre. The art events were traditionally held at Shanti Kunj.
Students from several colleges from across India attended and participated in events during the cultural festival of IIT Madras (Mardi Gras '83). This included places such as Bombay, Delhi Jamshedpur, Bhubaneswar and Bangalore.
Collection:
N S Vinodh Collection
Album Name:
Mardi Gras 1983
Photograph ID:
001/0416/0002
Date:
26 to 30 January 1983
Photographer:
N S Vinodh. After completing an early education in Bangalore, N. S. Vinodh obtained his B. Tech. in Civil Engineering from IIT Madras in 1986. Being the secretary of the Photography Club at IIT Madras during his third year, he was an avid photography enthusiast. He then went on to complete his MBA from IIM, Lucknow, and later spent his career holding senior positions in the field of Corporate Real Estate with leading multinational financial services companies. He continued to pursue his hobby of photography, integrating it with his love of travel and wildlife.
Place:
Central Lecture Theatre