The speakers and guests converse over refreshments at the launch of the ...
< Back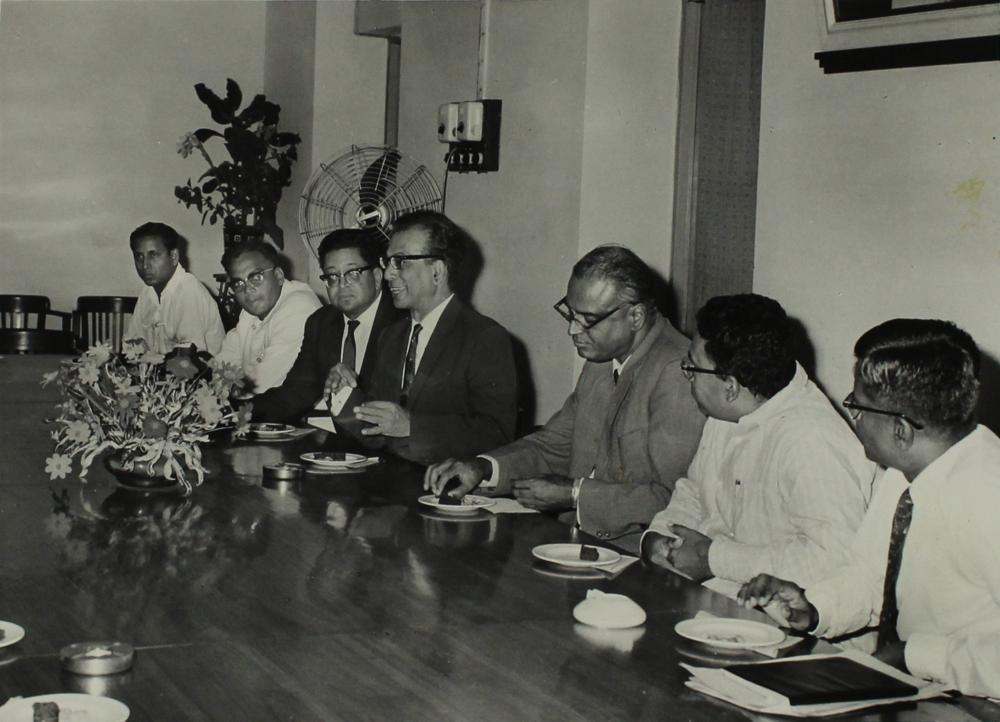 Faculty , Institute Events , Visiting VIPs
Seen seated from the left: two individuals who are yet to be identified, Prof. S. Sampath (Deputy Director), Prof. B. Sengupto (Director), an individual who is yet to be identified and Prof. P. C. Varghese (Head of the Civil Engineering Department).

Mr. V. R. Nedunchezhian (Minister of Education, Madras) was the chief guest at the event held to launch the Journal of Mathematics and Physical Sciences that took place at the Institute on 24th November 1967. The Journal was launched with an Editorial Board, composed of eminent mathematicians and scientists in India and abroad. The objective behind the Journal was to establish and maintain a publication in India for research papers of the highest quality. Among the speakers present at the launch of the Journal were Dr. A. L. Mudaliar (Chairman, Board of Governors) and Prof. Alladi Ramakrishnan (Founder and Director of the Institute of Mathematical Sciences-IMSc).

Collection:
Central Photographic Section Collection
Album Name:
Visit of honourable Minister Mr. V.R. Nadunjeliyan and opening ceremony of new Library building by Dr. A.L. Mudaliar
Photograph ID:
001/0011/IMG_0397_1
Date:
1967-11-24 & 1967-07-21
Place:
CLT and outside Library
Event:
VIP Visit, Opening Ceremony